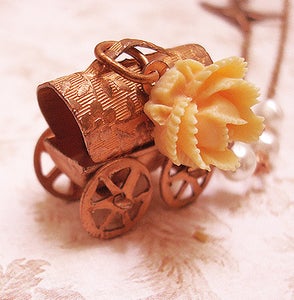 The Old Gypsy Wagon necklace -

£

14.00
You always used to see these old romany wagons at those old fashioned fairgrounds - to me they always looked beautiful. So imagine my happiness when I found these lovely copper vintage charms with floral embossing and actual movable wheels! It comes attached to a peachy frilly-edged rose and a trail of pearls up the chain.
On antique copper chain, approx 20", with a matching hook clasp.

<!-- AddThis Button BEGIN -->